Nick Wilde is the secondary protagonist of Disney's Zootopia.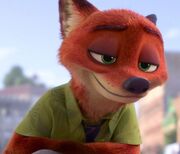 About him
Edit
In the film, Nick, a handsome and sly Red fox, begins as a con artist, but, over the course of the film, turns over a new leaf due to his time with the beautiful bunny cop Judy Hopps, and, at the end, becomes a cop himself. He doesn't care for Judy much at first, but turns around eventually.
In PrinceBalto's fanon, he is romantically involved with Judy Hopps, and his parents are Robin and Marian from Disney's Robin Hood.