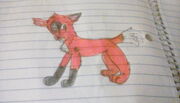 Max belongs to Eva1234dog .
personality 
He's a sweet little fox , with the pashun for hunting , if you ask this guy to hunt something , heck ya your wish is his command , He is very Sly and sneaky , He's is very fast at running too .
appearance
He's orange with black socks , and and a black patch Eye , he has a white bunny like patch on his chest and a white tipped tail .
triva 
He's from the fox and the hound fanon ( link coming later on )