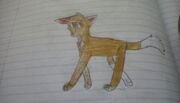 kipto is a wolf owned by Eva1234dog .
Personality
He's a sweet tender loving wolf , and the brother of Humphrey from Alpha and Omega , he's an alpha wolf , he's is kinda bossy but not that much , he's loves to eat deer and squirrels .Triva 
He's my oc on the Alpha and Omega fanon .
He's my first oc on here .
looks .
He is tan with a white patch on his chest and white socks , tipped tail and ears . his left eye is blue and the right is orange .