K9 Academy is a school  , there are three age groups who  all have different uniforms , and it a prep for all canines . this school was created by Eva1234dog , it was found by Avery when she was taking a walk through the woods , so that makes her the the leader . 
age groups
joiner's
.6 - 12
Judah .
juniors .
13 - 17
ambassador .
18 - 26
uniforms .
Joiners .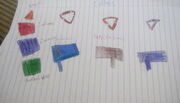 The joiners get a purple uniform and a a orange and red bage , the orange bage says a k9 preper  and the red bage says I have been a joiner . and the uniform comes with pinkish bandanna .
Juniors .
They get a brown  vest with a dark blue bage that says I have been a junior , and the uniform comes with a orange bandanna . 
Ambassador 
They get an ocean blue vest with a green patch that says I have been an Ambassador ! And have a red bandana .
rules to have your ocs join .
It have to be in Prince baltos university or Eva1234dogs university and Hezekiah university .
sports
Soccer 
Baseball 
Basketball 
Swimming 
Hockey
classes 
Art class
Canine history
Biology
Spanish
Chemistry
Astronomy
Health 
Music 
Singing 
Surviving dangerous places 
FBI and police training 
P.E
techers
FBI teacher  - http://paw-patrol-fanon.wikia.com/wiki/Heston
Soccer coach -
P.E coach - Lani
Triva
• The staff members Wear red hats with a paw prints .
• The Principal is Avery and the Vic principal is kojo .
• The created is by Eva1234dog