Colleen is one of the main characters of Road Rovers.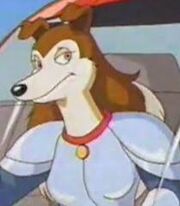 About her
Edit
Colleen is the sole female on the Road Rovers team, and has a major crush on the team leader, Hunter. She is a beautiful Rough collie hailing from England. She is the team martial artist, as well as medic, and the object of a crush from teammate Blitz, who she despises immensely.
In PrinceBalto's fanon remake of Road Rovers, she is the definite girlfriend of Hunter, as well as a former puppyhood playmate, Hunter's best friend on the team, actually.