Welcome to the wiki!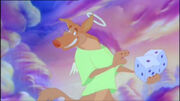 Welcome to the Canine Fanon community
This is a fanon wiki devoted to stories devoted to characters who are canines of all types.
Describe your topic
Here you can write fanfics about your favorite dog characters.
Rules
No spamming
No trolling
Many of the articles are locked down to prevent spamming. If you, as a user, want to add something, Just tell a mod and they will add it for you.
No inappropriate content.
Writers can come up with what they want pretty much. It is their call.
Be nice.
Don't argue with the admins. We will not tolerate it.
Don't edit other people's stuff without permission.
Don't abuse the comments.
Have fun
Do not upload stolen fanart. You can upload your own fanart.
While canines are the main animal mentioned here, other animals can be spoken of where appropriate.
If you didn't know, hyenas are actually related to cats, so no hyenas .
Striking system
Strike 1 : warning
Strike 2: 2-3 days
Strike 3 : 1 week 
Strike 4 : banned 
Types of canines that can be found here
Wolves
Domestic dogs
Foxes
Coyotes
Jackals
Any other ones you can think of
About trolling
We here have a zero tolerance policy for trolling. If it is seen, the staff will take action.